HOSPITAL WASTE PROCESSING SOLUTIONS
Hospitals have a diverse array of waste streams. Komar offers efficient, cost-effective medical waste shredding solutions for hospital cafeteria waste, recyclables, red bag waste, and confidential document destruction.
See Solutions For
Cafeteria Waste
Auger Type:

 Self-Contained – Single Screw

Applications:

 Wet Waste / Food Waste

Volume:

 Low   

Duty:

 Intermittent

Feed Methods:

 Chute-Fed, Forklift, Tipper, Hand
A typical 1,000-bed hospital serves over 8,600 meals per day. This amount of consumption inherently means that hospitals need a clean and economical way to deal with food waste. Komar's self-contained auger compactors provide such a solution.
Fully sealed construction for the processing, storage, and transfer of wet waste
Eliminates unsanitary build-up due to ram drag back
Odor and pest control with ozone technology
Optional plug-in dock-enclosure for all-weather ease of use
Recyclables
Auger Type:

Stationary – Single Screw

Applications:

Cardboard

Volume:

Medium 

Duty:

Continuous

Feed Methods:

Chute-Fed, Forklift, Hand
When a hospital wants to recycle cardboard, it must be processed separately from the general waste stream.  For cardboard recycling, Komar suggests the Komar Auger-Pak® General Series with a cart tipper.
More efficient processing and fewer material jams than a ram compactor
Small machine footprint fits into tight quarters
Low maintenance only requires one part-time operator.
Optional plug-in dock-enclosure for all-weather ease of use
Red Bag Waste
Komar offers a full range of equipment to process medical waste utilizing the latest
shredding
and sterilization technologies. Coupling one of Komar's low speed, high torque, quad shaft shear shredders with an autoclave sterilization system is a proven, safe and economical solution for the on-site processing of medical waste.
Komar's quad shaft shear shredders offer versatility in processing medical waste by utilizing removable sizing screens. Depending on desired output, sizing screens can be selected to provide a uniform piece size from 3/4″ to 4″. Shredders can easily handle bagged waste, sharps containers, and batches from autoclave carts. A de-jamming circuit is included to prevent damage from any stray metal waste such as hip joints and surgical tools.
AUTOCLAVE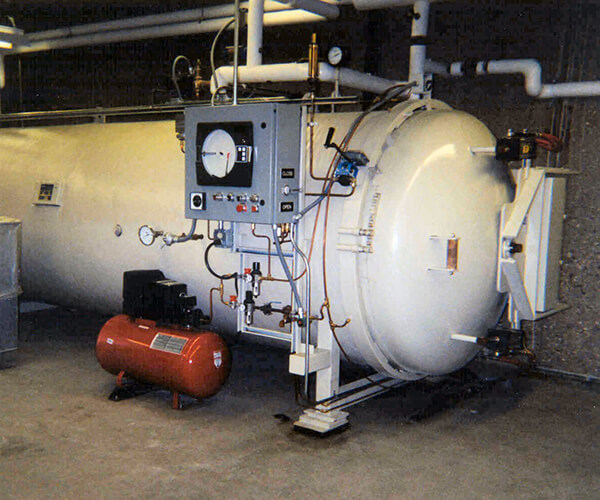 Komar's autoclave sterilization unit offers the following features: (1) An integrated PLC that monitors and controls the sterilizer cycle, ensuring 100% destruction of bacteria. (2) An ASME pressure-rated vessel with integral waste tracks for easy loading. (3) A manual safety door lock bar interlinked to the sterilizer controls ensures that the door mechanism is locked before pressurization of the vessel. (4) Pneumatically actuated breech-lock door and inflatable door seal. (5) The sterilizer controller energizes a pneumatic safety lock pin to prevent door opening while the unit is pressurized. (6) A single channel circular temperature chart recorder to provide permanent documentation of each batch cycle.
CART TIPPERS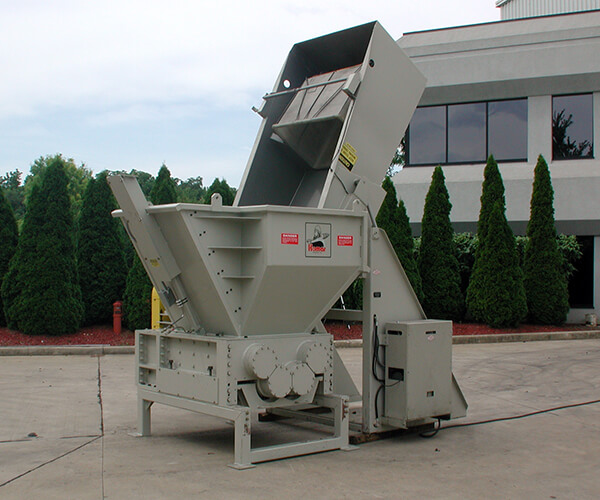 Integrate Komar Cart Dumpers into your waste system to handle either existing or new cart systems. Komar offers both all-electric or hydraulic cart dumpers to fit every need from 500 to 6,000-pound capacity.