Which Type of Auger-Pak® Does Your Facility Need?
Komar serves three main applications with the Komar Auger-Pak®: Cardboard, Wood, and General Waste. Many facilities have all three waste streams present. Does this mean that every facility requires three Auger-Pak® units? The short answer is No. While we serve customers, who have enough volume in each application to justify three separate units, this is not typical. This article will help you understand which of our industrial auger compactor lines will best serve your needs.
Cardboard Applications:
When is a unit dedicated to cardboard?
Medium to high-volume cardboard generators want to recycle their cardboard because they get rebates and avoid landfill fees. To recycle cardboard, they must keep it separate from the rest of their waste stream. Separation requires a dedicated unit to process cardboard. The alternative technology for this volume of cardboard processing is an auto-tie baler. To learn about the auger's advantages, go here.
If a facility does not have a lot of cardboard, it will be difficult for them to realize a positive ROI in purchasing a dedicated Auger-Pak® for cardboard. They will either throw cardboard in with the rest of their waste or select a smaller cardboard recycling system, like a downstroke baler or hydraulic ram compactor.
General Waste Applications:
What is general waste?
In the simplest terms, "general waste" means a mixed waste application. The main goal is either volume reduction or product destruction, and the processed material is going to a landfill, not a recycler. Common types of general waste are: bagged trash; furniture; consumer goods for product destruction; unsalable items from donation centers; and mixed industrial facility waste. If you do not have enough wood or cardboard to justify a dedicated unit, it is common to throw this material in with the rest of your general waste stream.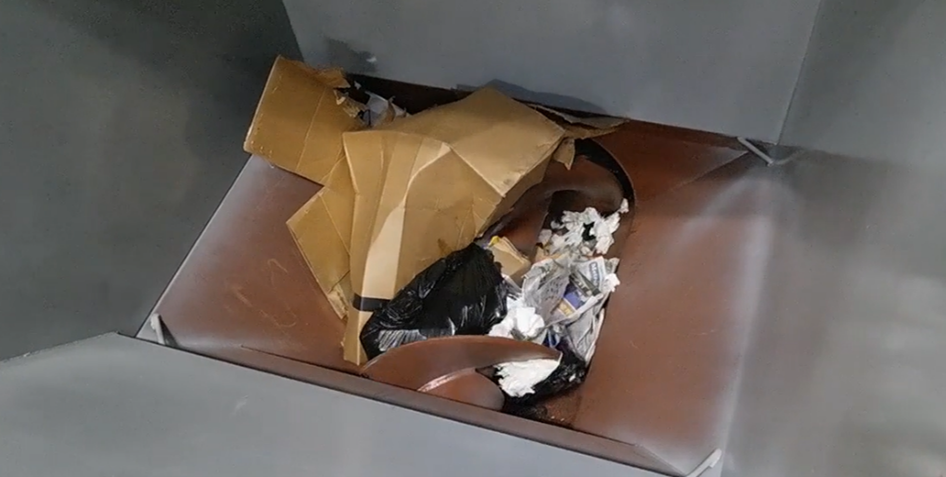 Wood Waste Applications:
Why make the distinction from general waste?
Like general waste, wood waste is typically going to a landfill. Unlike general waste, wood-dominate applications benefit from the addition of cutting teeth on the auger screw. The teeth help to grab the wood and shred it more effectively. When a facility is filling up several open-top dumpsters of wood waste per week, they can usually easily justify an Auger-Pak® for this waste stream.
Because wood waste is going to a landfill, it is ordinarily fine to also process some general waste in this unit. The caveat is the presence of something in the general waste stream that could catch on the teeth and wrap the auger screw. We call these items "red flag materials." Common red flag materials are banding, plastic film, cardboard, full metal framing around crates (corner bracing is okay), and metal sheeting. Depending on how much of this material you must process, as well as the size of your wood waste, your Komar sales expert will help you to determine if the wood screw or the general screw will be best for your application.
The Trifecta:
When do facilities require all three Auger-Pak® units?
Some facilities have a medium-high volume of both cardboard and wood waste from their shipping and receiving operations. They purchase an Auger-Pak® for cardboard to process it for transportation to the recycler. They also purchase an Auger-Pak® (with cutting teeth) to process their wood waste safely and efficiently for transportation to the landfill. Finally, they have enough additional material (such as bagged trash, bulk waste, banding, plastic film, etc.) to get an additional unit for their general waste.