Project Highlight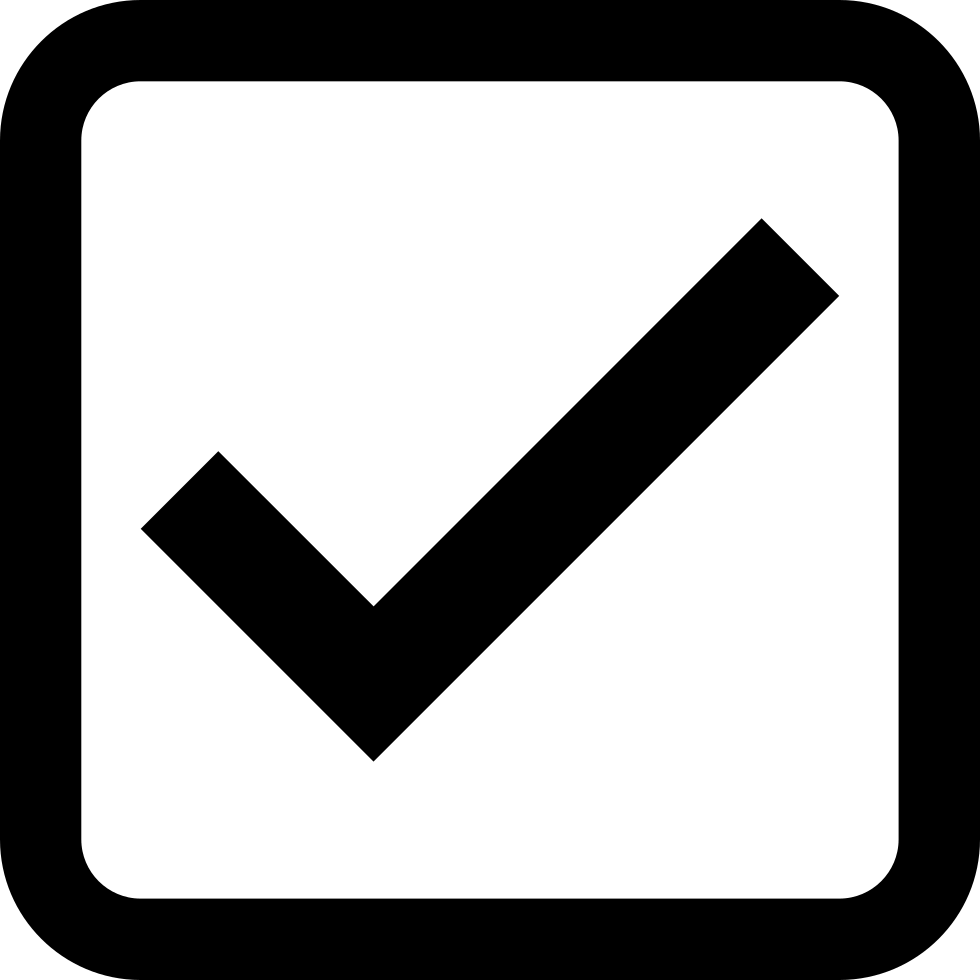 Separation of Organics from MSW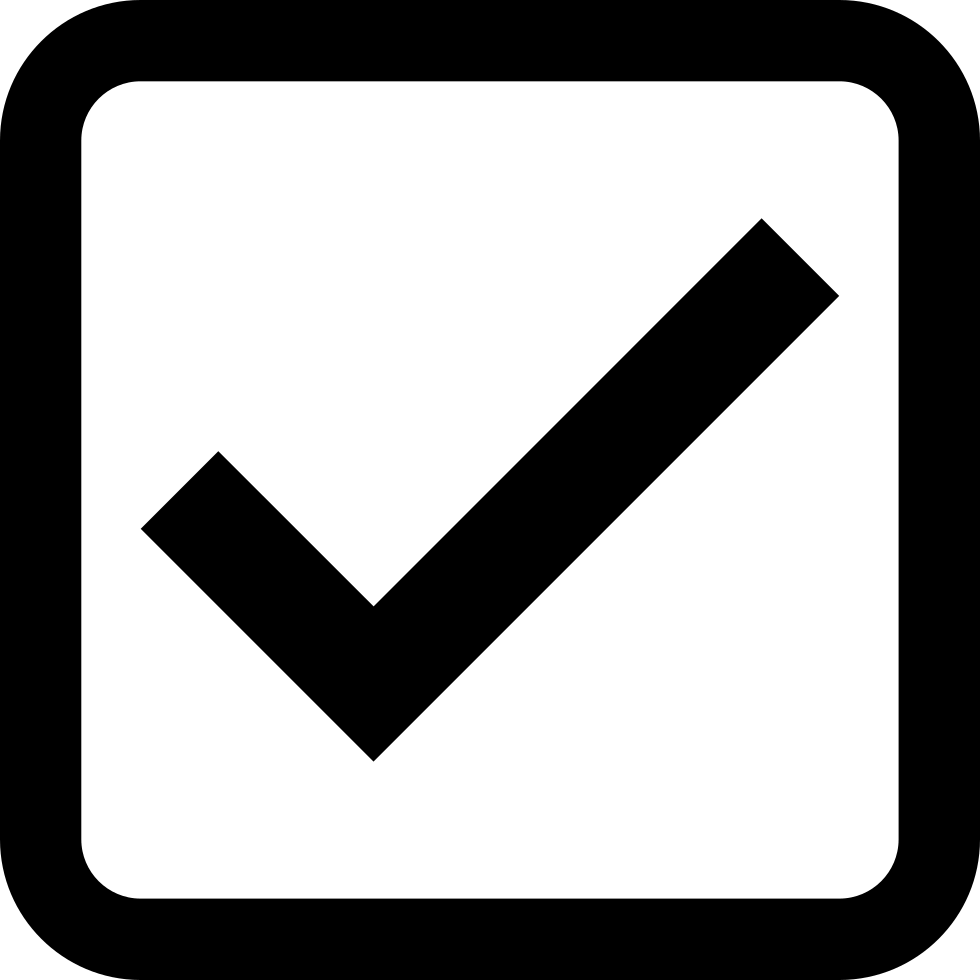 Processes 40 tons per hr.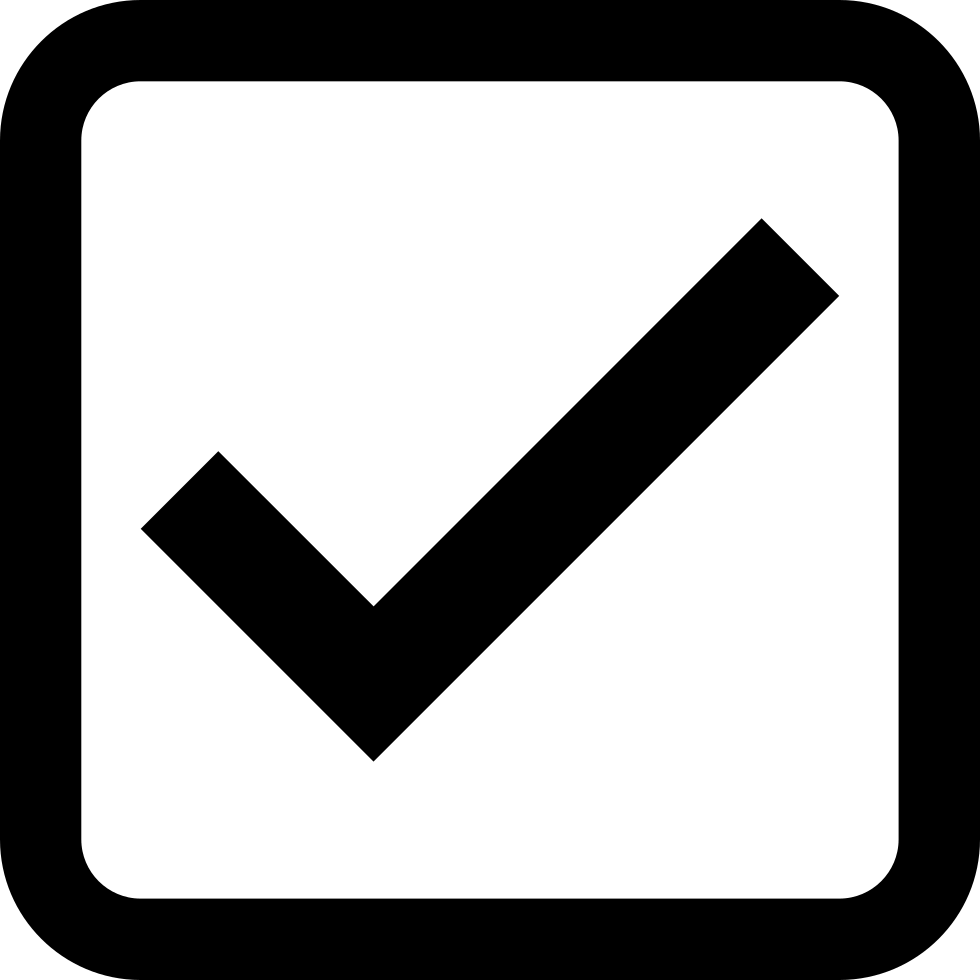 40% recovery for beneficial reuse
Site: City of Industry, CA
Equipment: OSP-200
Application: Organic Separation Press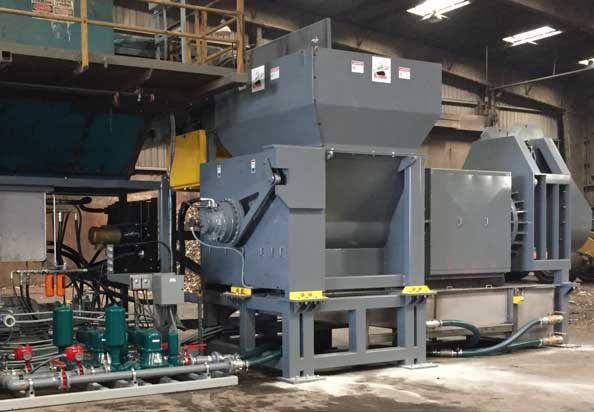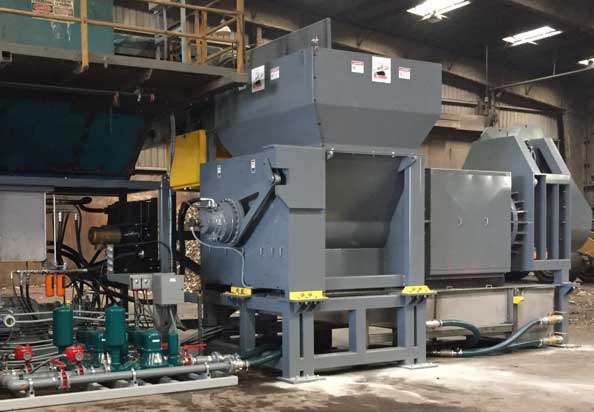 Athens Services has collaborated with Komar Industries to produce an Organic Separation Press (OSP). The machine combines a compression auger with a dewatering unit to separate nutrient-rich organics from municipal waste streams. The OSP processes about 40 tons of waste per hour. Of that, the machine is able to recover up to 40 percent for beneficial reuse.
Read More
ORGANIC SEPARATION PRESSES
The waste management industry faces growing legislation requiring higher overall diversion rates from household as well as industrial, commercial and institutional streams. To date industry has responded by targeting cleaner post industrial and residential streams. As diversion targets ramp up, processors need to handle significantly more contaminated organics streams to meet higher diversion targets.
KOMAR SOLUTION
Komar Industries offers a full line of machines for organic separation applications: OSP-20, OSP-60, OSP-100, and OSP-250, with the numbers referring to their horsepower. Our smaller OSP-20 is a 20-horsepower machine that specializes in depackaging organic materials for processing. Depacking is the process of separating organic waste (food, liquid, etc.) from the inorganic package it was contained in, e.g. separating Gatorade from the plastic bottle it was contained in so that the bottle can be recycled where the liquid will be processed with the rest of the waste. Our largest machine, the OSP-250 specializes in the highest volume of waste processing needed. It is equipped to handle a full range of processing including depackaging, pulp rejects, and MSW (municipal solid waste). Industries such as recycling plants, waste transfer stations, landfills, and materials recovery facilities can benefit from our OSP equipment.
Your Komar Experience
Once you choose to work with Komar for your organic separation application, we work to consult as your partner to meet your organic recovery goals. We invite you to reach out to Komar to consult with one of our OSP experts to discuss your needs. We will tailor a customized solution to best fit your needs based on the application for use, volume, and other factors that will help us determine the best machine to process your waste materials. Upon purchasing an OSP machine you will experience a rapid investment payback and quickly see improving internal rate of return on the equipment. With our nearly 50 years of waste processing industry experience, Komar doesn't just sell equipment. We provide solutions for our clients to both best suit our client's needs and enhance and improve our relationships through qualified customer service and dependability, and machine reliability. After you purchase a machine, we will be your trusted advisor throughout its lifespan to help you resolve changing government regulations, equipment maintenance, or act as a resource to help you utilize the machine efficiently and to the best of its capabilities.
ORGANIC SEPARATION PROCESSING
1-3 TONS/HR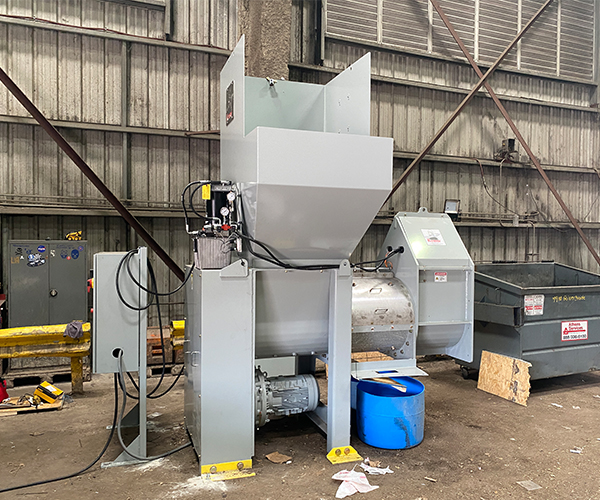 The OSP-20 provides liberation of organics from plastic and inert overs from source separation paddle type units. Primary organic separation is achieved in the OSP unit, with liquids and sludges collected in the underbelly tank. Optional hose pump system is fully automated and includes flow meter for reporting rinse water and liquids produced. Dry output from the OSP is directed to landfill.

Application:

Organic Extraction from Post processing of source separated organic processor oven; Depackaging of plastic, aluminum, Tetra and Gable Containers

Recovery:

Up to 90% of Available Organics
Proprietary wedge bar separation system
Automatic pressure control with multiple operating modes
Electro-mechanical drive
Allen Bradley touch screen with Controllogix software
Remote factory support and reporting
OSP-20 Specifications
Throughput
1-3 tons / hour
Horsepower
20
Drive Type
Electro-Mechanical
ORGANIC SEPARATION PROCESSING
3-8 TONS/HR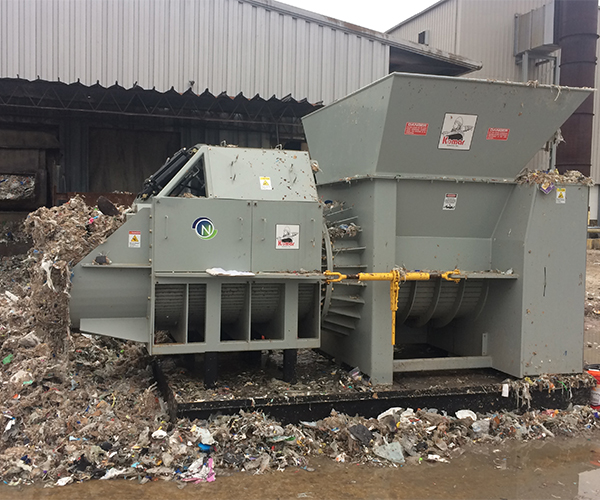 The OSP-60 provides liberation of organics from plastic and inert overs from source separation paddle type units. Primary organic separation is achieved in the OSP unit, with liquids and sludges collected in the underbelly tank. Optional hose pump system is fully automated and includes flow meter for reporting rinse water and liquids produced. Dry output from the OSP is directed to landfill. The OSP-60 can load walking floor trailers directed when mounted on optional raised stand.

Application:

Organic Extraction from: post processing of source separated organic processor ovens; depackaging of Plastic, Aluminum, Tetra and Gable Containers

Recovery:

Up to 90% of Available Organics
Proprietary wedge bar separation system
Automatic pressure control with multiple operating modes
Electro-mechanical drive
Allen Bradley touch screen with Controllogix software
Self-cleaning separation chamber with maintenance free wedge bar design
Remote factory support and reporting
OSP-60 Specifications
Throughput
3-8 tons / hour
Horsepower
60
Drive Type
Electro-Mechanical
ORGANIC SEPARATION PROCESSING
8-15 TONS/HR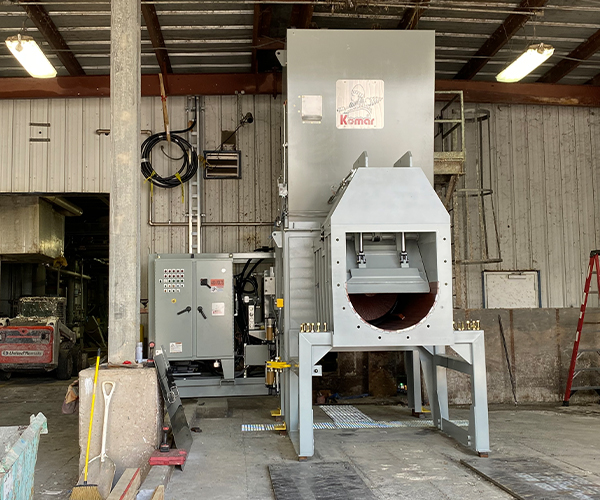 The OSP-100 provides high speed debagging, maceration and liberation of organics at up to 15 tons per hour. Primary organic separation is achieved in the OSP unit, with liquids and sludges collected in the underbelly tank. Hose pump system is fully automated and includes flow meter for reporting rinse water and liquids produced. Dry output from the OSP is screened at 2″ with overs conveyed to metal recovery system. Dry output can be recirculated back to feed to balance very wet feed material or directed to WTE or landfill. The 2″ under fraction is screened at 3/4″ minus to recovery remaining organics. The OSP liquid/sludge fraction and the 3/4″ minus are mixed together and homogenized to release remaining organics. This final mixed is pressed to recover the organics and reject the minor non-organic fraction.

Application:

Organic Extraction from: Bagged and Loose Mixed Waste; Wet Commercial and Industrial Waste; Depackaging of Plastic, Aluminum, Tetra and Gable Containers

Recovery:

Up to 90% of Available Organics
Proprietary wedge bar separation system
Automatic pressure control with multiple operating modes
Closed loop hydrostatic drive system
Allen Bradley touch screen with Controllogix software
Remote factory support and reporting
Fully integrated with conveyor and screening system
OSP-100 Specifications
Throughput
8-15 tons / hour
Horsepower
100
Drive Type
Hydrostatic
ORGANIC SEPARATION PROCESSING
20-50 TONS/HR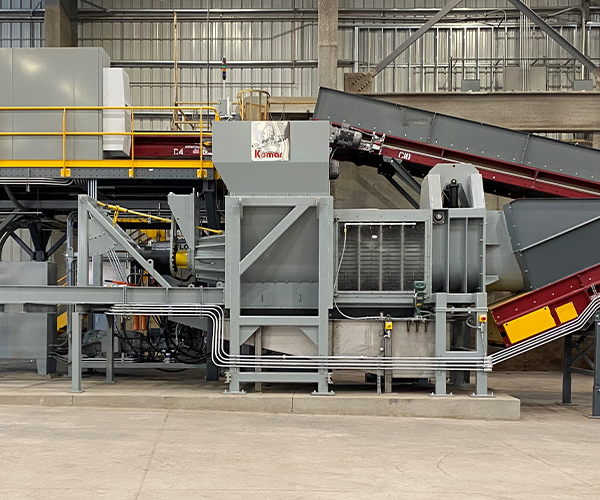 The OSP-250 provides high speed debagging, maceration and liberation of organics at up to 50 tons per hour. Primary organic separation is achieved in the OSP unit, with liquids and sludges collected in the underbelly tank. Hose pump system is fully automated and includes flow meter for reporting rinse water and liquids produced. Dry output from the OSP is screened at 2″ with overs conveyed to metal recovery system. Dry output can be recirculated back to feed to balance very wet feed material or directed to WTE or landfill. The 2″ under fraction is screened at 3/4″ minus to recovery remaining organics. The OSP liquid/sludge fraction and the 3/4″ minus are mixed together and homogenized to release remaining organics. This final mixed is pressed to recover the organics and reject the minor non-organic fraction.

Application:

Organic Extraction from: Bagged and Loose Mixed Waste; Wet Commercial and Industrial Waste; Depackaging of Plastic, Aluminum, Tetra and Gable Containers

Recovery:

Up to 90% of Available Organics
Proprietary wedge bar separation system
Automatic pressure control with multiple operating modes
Closed loop hydrostatic drive system
Allen Bradley touch screen with Controllogix software
Remote factory support and reporting
Rapid removal auger system for maintenance
Fully integrated with conveyor and screening system
OSP-250 Specifications
Throughput
20-50 tons / hour
Horsepower
250
Drive Type
Hydrostatic