How Fabuwood Drastically Improved Their Wood Waste Processing with the Komar Auger-Pak®
"We are getting 8-9 tons per haul, and the hauler only has to come once per day. This has cut our hauling cost in half. We never have pallets sitting around anymore. You come to work at the beginning of the day, and everything is ready for you." ~ Samuel Schlussel, Purchasing Manager
Company Description
Fabuwood manufactures and supplies superior quality kitchen cabinets at an affordable price. Headquartered in Newark, New Jersey, they offer their products through a national network of furniture dealerships.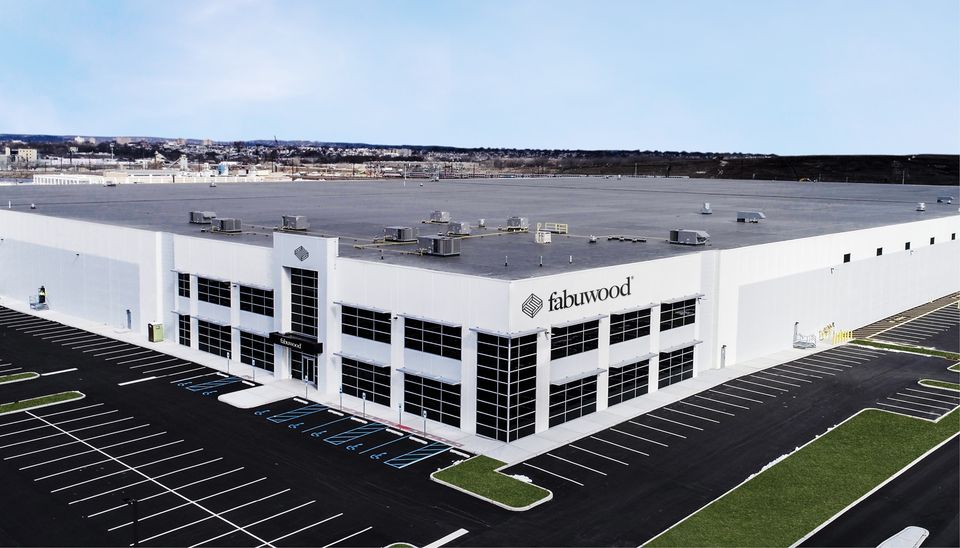 Challenges
TOO MUCH NOISE, DUST, AND OPERATIONAL COST, NOT ENOUGH PROCESSING POWER.
Fabuwood was a growing company. They had outgrown their single-shaft shredder for pallet processing.
"It was taking more than a day to shred the number of pallets we produced daily. We were a growing business, so we knew the problem was only going to get worse," says Samuel Schlussel, Purchasing Manager.
In addition to not keeping up, the shredder was making a lot of noise and dust.
"A shredder only bites tiny pieces of the pallet at one time, creating tremendous noise and dust. Everywhere you looked, there was an inch of dust."
A full-time employee was dedicated to processing.
"We had one person bringing pallets to the staging area and another person who would stand at the shredder all day feeding pallets into the machine."
The hauler came twice daily because they could only get three to four tons into their receiving container.
"The hauling cost is one of the biggest portions of your total cost; it was a significant driver in finding a better solution."
Solution
FINDING THE RIGHT MACHINE FOR THE JOB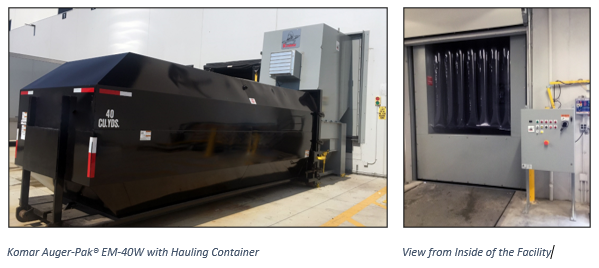 When Fabuwood first reached out to Komar, they thought they wanted a larger single-shaft shredder. Don, a factory-direct Komar sales representative, explained how the Komar Auger-Pak® worked and why it was the right machine for the job.
"Don explained how the Komar auger shreds and compacts efficiently, without the noise and dust. We originally thought you had to have a small, shredded piece size to get more weight in the container, but that is not the case. The Komar Auger-Pak® promised to pack double the weight, per haul, as our current shredder. The information we got from Komar was clear and made us feel confident in moving ahead with the purchase."
Results
A CLEANER, QUIETER FACILITY, WITH MORE SPACE, LESS LABOR, AND HALF THE HAULING BILL
The noise and dust that the single shaft created became a thing of the past, and they saved on labor.
"The auger created even less dust than we expected. That part really exceeded our expectations. Before, we had one person bringing the pallets to the staging area and another full-time employee there to process them. Now, the same person who brings the wood just throws it into the auger and gets back to their work. We were able to re-purpose 95% of a full-time employee."
They saved a lot of money on hauling and got rid of their staging area.
"We are getting 8-9 tons per haul, and the hauler only has to come once per day. This has cut our hauling cost in half. We could get even more weight, but we like to have the hauler come in the morning to start with a fresh container. We never have pallets sitting around anymore. You come to work at the beginning of the day, and everything is ready for you."
Looking back, Samuel is pleased with his purchase.
"We moved to our new facility in 2018, and the auger was one of the things that we purchased. When we rated purchasing successes, the auger got a 110% on the test. When you buy a machine, you usually try to figure out how many days it will be down and how much it will cost in parts and labor. With Komar, this is all very easy because it doesn't break, and the one time we did have an issue, the service was great. The total cost of ownership is very low. It was a really, really good buy – it is one of our best buys."
We asked Samuel, as someone in purchasing, how does he know it performs so well.
"Because you never hear about it. When a machine is causing a problem, the maintenance people will come knocking at your door, and with the Komar, they don't."