How Leader's Furniture Reduced Their Facility Trash Effort by 70% and Doubled Their Payload Weights with the Komar Auger-Pak®EM-20G
"Our horizontal (ram) compactor wasn't keeping up, maxing out at 1.5 to 2.4 tons per 40-yard container load.  If you didn't take the trash out continuously, the work areas would get bogged down, and morale would drop. A clean work area is fundamental for team members to feel respected to achieve an efficient process and high-quality results.  So far, the Komar Auger-Pak® has compacted six tons into the container, which isn't even full!   Now trash never has a chance to build up, our facility stays clean, and watching the auger process waste has become a favorite spectators' sport!"– Tim Newton, President, Leader's Furniture Distribution Center.
Company Description


Leader's Furniture is a Florida-based retailer of high-quality "casual furniture." Specializing in Rattan, Wicker, and Patio Furniture, customers will find a complete selection of indoor and outdoor furniture at their 19 showroom locations throughout the state.  Recently, Leader's purchased a Komar Auger-Pak® for their 150,000-square-foot distribution center.  We caught up with the facility President, Tim Newton, to learn about the purchase and the results.
The Challenge: The Ram Compactor Couldn't Keep Up, Trash Overwhelmed the Facility at Peak Volume, Which Harmed Efficiency and Morale.
What were you using before you bought the Auger-Pak®
"A horizontal RAM which is the convention at least around our area." – Tim Newton, President, Leader's Furniture Distribution Center.
So, you were using a RAM compactor; what type of material were you putting in the compactor?
"Dry industrial, mainly packing material, cardboard, Styrofoam, office trash, nothing fancy."
Why were you looking for a new solution, was the ram not keeping up?
Furniture is our trade, but our goal is to be a great workplace.  We would generate a lot of trash while rocking and rolling at peak volume.  It can take up to six hours at the end of the day for two people to take out our trash, even though loads are consistently taken out throughout the day.  Feeding the horizontal ram was challenging, often requiring a lot of manual manipulation of the load by the operator to get the waste to feed into the container.  Work areas would get bogged down with trash, and morale would drop.  A clean work area is fundamental for team members to feel respected to achieve an efficient process and high-quality results.
Besides throughput, were you facing any other issues with RAM?
If we didn't break it down first, any material on the larger side would bridge.  People would have to hit it with a metal pole to try to push it through, and sometimes people would lock it out so they could jump into the machine to unjam it.  That is all very inefficient and did not meet our culture of safety.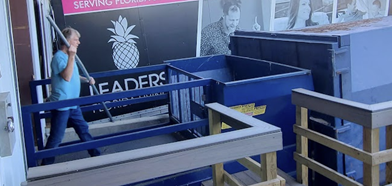 In addition, we run a fleet of 20 trucks that deliver furniture to our customers.  The trucks bring back all the packing waste from the furniture they deliver, including huge boxes.  You would come in on Monday morning and be welcomed by eight cubic yards of trash they staged on the deck near the ram.  No one wants to start their morning that way, and it would take a couple of hours of effort to process.
The Solution:

A Komar Auger-Pak

® EM-20G with an Electric Cart Dumper
When you started looking for a new solution, did you know you wanted an auger?
No, I wasn't aware augers existed.  We were thinking about getting a shredder fabricated above the horizontal compactor.  This solution had clearance and loading issues.  We kept looking because we believed there had to be a better solution, and then we came across auger compactors.
Which brands of augers did you consider, and what made you select the Komar?
I did find some other augers; I don't remember their names at this point.  Komar has excellent videos on the website; I'll give you credit.  Before spending the money, I wanted to come up and see it working in person.  The founder gave me a factory tour, and he had a lot of pride in what you guys were building.  I've got a mechanical engineering background from college, and I could see the additional welds, gussets, and thicker materials.  You guys don't cut corners.  I knew you weren't the cheapest, but when our trash processing goes down, we get buried in it.  I just wanted something that I knew was going to work.  In addition, the Komar team was easy to work with when we wanted to customize our hopper with higher sides and a side load.  ­
The Results:

A Clean Work Area, Much Faster Processing, and Happier Employees
How is life different today with the Auger-Pak®?
Employees had to do some lifting to load the ram compactor, and we had a few back injuries.  The dumper is a novelty to the team; since we put it in, everyone wants to take their own trash out.  The side load hopper allows us to feed more oversized items over the side, allowing our trucks to dump material straight into it.  On the weekends, we have it turned off, so the trash from our trucks is waiting in the hopper.  Instead of taking an hour or two to process the weekend backlog, now we just hit a button, and it goes right through.  So that turned a one-to-two-hour process into a spectator sport where everybody watches it process in under a minute!
How did the installation go?
The Komar service tech that did the installation was super.  He went over everything with our maintenance staff, so they feel confident with operations and essential preventative maintenance.
How big of payloads are you getting?
We haven't even filled it up yet, but so far, we have between four and six tons in a 40-yard container.  We are not sure where it will max out.  Since we run it half as much as our horizontal ram, we never get a buildup, which prevents things from getting out of hand and turning into a bigger production.
Compared to horizontal ram compactors that we ran for 20 years, the Komar auger has reduced our total facility trash effort by 70%, and we fit 100% more weight in each haul to the dump.
Learn How the Komar Auger-Pak® Will Clean Up Your Facility and Improve Your Bottom Line!
Fill out the "Ask An Expert" form below, or give us a call at 614-836-2366.
We look forward to answering your questions!