How OBRC is Optimizing Operations at their BottleDrop Centers with the Komar EPC-5.
You need excellent processing equipment when you are charged with keeping 169 million pounds of beverage containers out of the landfill annually. The Oregon Beverage Recycling Corporation (OBRC) turned to Komar to help maximize storage capacity at their drop-off locations and drastically reduce transportation costs to their processing facilities.
The Challenge:
Limited Storage Capacity and High Transportation Costs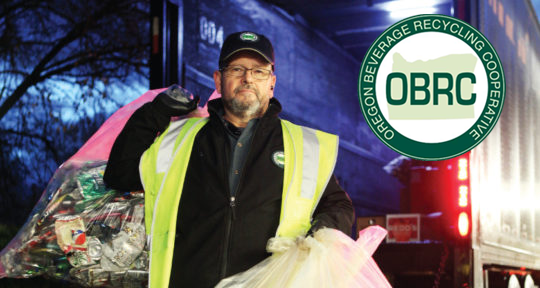 OBRC is a cooperative owned by Oregon beverage distributors. OBRC manages the deposit flow, reimburses grocery retailers for refunds paid to the public, picks up and processes returned beverage containers across the state, and operates 25 BottleDrop Redemption Centers. As a result of what they do, more than 169 million pounds of beverage containers are recycled and stay out of Oregon's landfills each year!
Customers can access self-service returns, hand-count services, and Green Bag drop doors at the 25 BottleDrop Redemption Centers, and another 63 (and growing) bag drop facilities located at partner retailers. Storing uncompacted plastic took up a lot of space and was expensive to haul across the state to OBRC's processing facilities. OBRC needed equipment at each Redemption Center to flatten material efficiently for increased storage capacity and reduced transportation costs.
The Solution:
The Komar EPC-5
In 2011, OBRC purchased a Komar EPC-5 unit for their Salem, Oregon, BottleDrop Redemption Center. Management was very pleased with its performance.
"The Komar EPC units provide a high level of compaction in our BottleDrop Redemption Centers. This compaction provides for highly efficient storage, which is often very limited. It also maximizes hauling weights on trailers delivering the compacted product to our processing plants." – Troy Ballew, OBRC.

The Result:
Increased Storage, Lower Transportation Costs, and the Purchase of 24 More Units
The Oregon Beverage Recycling Cooperative was so pleased with the performance of their first Komar EPC-5 that they purchased additional units annually until every BottleDrop center was outfitted with a Komar.

We asked Troy a few more questions about OBRC processing and his experience with Komar.
How long have the Komar EPC units been in operation?
"Our oldest units were purchased in 2011, and we have purchased several additional units each year to support new centers."
What is the typical duty cycle of the units?
"We run them seven days per week, typically about 11-12hrs/day."
Tell us about the product design, reliability, and support.
"The design is highly flexible. The units are easy to maintain and rebuild, allowing manufacturer improvements to be integrated into the system post-deployment with relative ease and minimal impact. Support from Komar and Nex-Gen is top-notch and always available up to the very top of the organization."
Learn how Komar EPC units can improve your operational efficiency!
Fill out the "Ask An Expert" form below, or give us a call: 614-836-2366.
We look forward to answering your questions!